Originally posted at
Renew America
June 19, 2012



As any good capitalist knows, the greatest and most important type of capital is human capital. The United States of America needs more people. We should be building more cities and towns, encouraging policies that improve proper, legal immigration and we need to have more babies.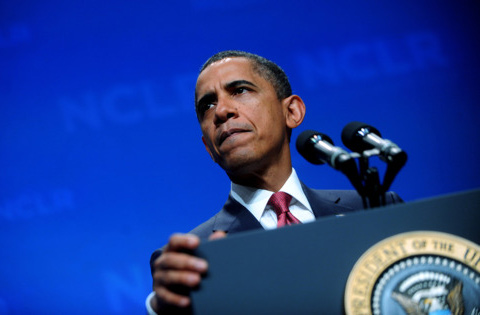 We railed against the left for having "Bush Derangement Syndrome" but many of us on the right aren't much better. So great is the enmity felt for President Obama by conservatives, we fail to recognize when he may be doing something right for a change — Like the "deferred action" immigration policy he announced last week.
The Conservative web was awash with posts lambasting the President's move. I had an instant messaging conversation with one of the columnists I hold in highest regard yesterday on this issue. I asked her "isn't this, as President Obama pointed out in his speech, essentially a President Bush plan he is enacting?

Keep in mind here, this is not the ridiculous Dream Act the Democrats came up with a while back — this plan is more akin to what has been said is contained in the Marco Rubio plan and as I said, much like President Bush's plan.

Immigration reform is really a conservative Republican issue that has been high jacked by the left to curry political favor with the increasingly powerful Hispanic vote. The tragedy is in the fact that intrinsically, the Latin vote should be a conservative vote. The problem is the ham-fisted way Republicans have handled this issue.

No one is more ideologically conservative than Hispanics. Almost everything Latin Americans hold dear socially and politically, the left is diametrically opposed to — But we are handing them over to the left by allowing the Democrats to appear more sympathetic and take-charge on immigration reform.
"Follow peace with all men, and holiness, without which no man shall see the Lord: Looking diligently lest any man fail of the grace of God; lest any root of bitterness springing up trouble you, and thereby many be defiled;" Hebrews 12:14,15


A Root of Bitterness implied impure worship, bad doctrine and false ideas that can corrupt and direct people down the wrong path spiritually and temporally. We are so busy chanting "Anybody but Obama" we chose the man with the least inspired solutions to our nations ills to be our candidate for President.
Many grassroots conservatives feel the right chose Mitt Romney not because we thought he was the best man, but because so many bought into the "best candidate with the chance to win" meme. Repeated ad nauseam by establishment talking heads on television and radio it became fact. Republican voters unfortunately missed an opportunity to field a candidate with a more meaningful and fleshed out agenda to address the nations problems. Romney has been very weak on solutions regarding immigration reform in particular.
Most of the ideas President Obama and the left propose are woefully wrongheaded — but not everything. Not this plan. The President's finger wagging and expressed High Dudgeon at being interrupted aside, we need to get out in front of the illegal immigrant issue and claim the votes that should rightfully be ours.
We mustn't let our bitterness towards President Obama dissuade us from doing the right thing. Inaction and a perceived unsympathetic view towards immigrants
will
be used against us.
It was interesting to see Bill Kristol and Karl Rove essentially saying the same thing on Fox News Sunday. Even the establishment Right recognizes that this is an issue we are getting the crap kicked out of us on. Congressional Republicans need to take the lead and put forth and pass the Rubio Plan before the left gets all the credit.
A Summary of Rubio's plan in his own words:
"The plan basically would award the kids who meet a certain criteria — they got here by a certain age, have lived here, graduated from high school, don't have a criminal record, want to go to college — they get what, in essence, is a student visa, and thereafter, a work visa.

And after some period of time, probably 10 years, we would then allow them to access the immigration system just like any non-immigrant visa holder in the United States would. ... So they'd be no worse off than anybody else, but no better off, either. No special path. Just the same path as everyone else."
It was the right and compassionate thing to do when President Bush proposed similar policy; it has not changed since and now President Obama has commandeered it. Pass Marco Rubio's Plan in Congress and the President's actions last week are cancelled out.
Stop crying and act, make it legal and take credit for it! No one is suggesting lawlessness should prevail, or amnesty proffered for those who have played hob with our nation's statutes. However the innocent should not be punished for the actions of guilty parents. The words inscribed on Lady Liberty:
"Give me your tired, your poor, your huddled masses yearning to breathe free,

The wretched refuse of your teeming shore. Send these, the homeless, tempest-tost to me, I lift my lamp beside the golden door!"
Echo the Words of the Lord found in Isaiah chapter 58:6-12
Is not this the fast that I have chosen? To loose the bands of wickedness, to undo the heavy burdens, and to let the oppressed go free, and that ye break every yoke?
Is it not to deal thy bread to the hungry, and that thou bring the poor that are cast out to thy house? When thou seest the naked, that thou cover him; and that thou hide not thyself from thine own flesh?
Then shall thy light break forth as the morning, and thine health shall spring forth speedily: and thy righteousness shall go before thee; the glory of the Lord shall be thy reward.
Then shalt thou call, and the Lord shall answer; thou shalt cry, and he shall say, Here I am. If thou take away from the midst of thee the yoke, the putting forth of the finger, and speaking vanity;
And if thou draw out thy soul to the hungry, and satisfy the afflicted soul; then shall thy light rise in obscurity, and thy darkness be as the noon day: And the Lord shall guide thee continually, and satisfy thy soul in drought, and make fat thy bones: and thou shalt be like a watered garden, and like a spring of water, whose waters fail not.
And they that shall be of thee shall build the old waste places: thou shalt raise up the foundations of many generations; and thou shalt be called, The repairer of the breach, The restorer of paths to dwell in.
We cannot allow a root of bitterness to spring up in our hearts in the face of the left's wrong doings — as Conservatives we must be better than leftists and not defile ourselves by stooping to their level. Gainsaying everything the left does to the detriment of what is good is not a recipe for avoiding the precipice the nation is poised to fall over.

Digital Publius